Fight Reports
Results From Geneva - Hamilton Fight Video added
Friday 1st May 2009
Geneva, Switzerland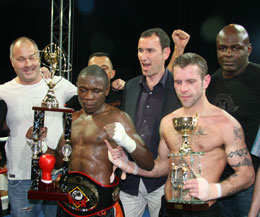 Gary Hamilton and Patrick Kinigamazi after the 12 round battle
Belfast's Gary Hamilton will wake up a bit lighter this week because his 7 year reign as Featherweight WKN world kickboxing champion is no more. Hamilton has been contemplating moving up a weight division due to weight problems in the past. The struggle to make the weight must have been a telling factor on Hamilton loosing his crown. ProKick.com will try and have some news, on what's next from Hamilton as he arrived home today from a well earned extended break after the fight with Kinigamazi.
Fight Report
Hamilton won his world kickboxing belt in December 2002 in France by stopping the then champion Pastar Pascal in 5 rounds. But tragedy struck this weekend in Geneva at the weigh in as the 28 year old took 3 attempts to make the weight.
The champion received a 1000 Euro fine from the World Kickboxing Network (WKN) under the rules and regulations.
The fight was very a much a seesaw battle with Hamilton starting the stronger of the two, by the third round however fatigue set into Hamilton due to him battling against the scales. Kinigamazi took this opportunity to stretch a lead in the fight and hurt Hamilton on many occasions with his work rate.
The Rwandan exile was growing in confidence by the round and by the 6th was a clear leader and looked as if he was going to stop Hamilton after a salvo of punches that rocked the Belfast Boy to his boots.
Hamilton showed true grit that took him to three defences of his featherweight crown and clawed back in the 9th, 10th and 11th rounds. Into the final round and it was much of the same, Kinigamazi on a kamikaze mission forced the last round with non stop action. It went down to the judges but the feeling around ringside was that the Belfast king of kickboxing was no more. It was a unanimous decision in favour of the new WKN featherweight world champion Patrick Kinigamazi.
"Gary lost his title but the old saying is that, that wasn't Gary Hamilton that he took the title off. It was an ill prepared overweight lack lustre champion, drained with weight problems." Said Billy Murray
"Gary needs to decide what category he wants to fit into. I still believe he can do the featherweight division but he needs to change the diet and training routine otherwise he needs to move up at least one division.
" Hamilton is taking a rest after the fight as he has extended his vacation in Geneva until the end of the week, then he will sit down with Murray and plot a course and also find out where they went wrong. It was a bitter sweet trip to Geneva, the bitter was Hamilton's defeat and the sweet was ProKick's new heavyweight sensation Pawel Gorka a Polish immigrant now living in Northern Ireland. Gorka won in his 2nd outing as a kickboxer taking on the much heavier David Briwa who weighed in a humongous 40 kilo heavier than the Polish Hammer who came in at a trim 97kilo. The referee administered a standing count, before finally stopping the match in the final stages of the last round.
Two greats from K1 also complimented Gorka on his performance. First up was Jerome Le Banner, a big fight fan favourite in Japan, who told the Polish heavyweight talent he done well and to keep training. K1 legend 4 time winner Ernesto Hoost was also firing compliments Gorka's way said he fought well and has good hand speed but needs to work on his fitness.
Click here for Pawels fight report
Gary Hamilton Vs Patrick Kinigamazi Video action
Copyright Billy Murray Promotions 2009
Pawel Gorka Vs David Briwa - Video
Copyright Billy Murray Promotions 2009
Enjoy this article? Share it with others: