Fight Reports
WKN World Full-Contact Title - Mazan France
Friday 1st October 2010
MAzan, France.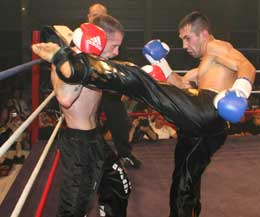 Bruce Codron lands a heavy kick to Gary Hamilton for the WKN world welterweight Full-Contact title in France on October 2nd
Belfast's Gary Hamilton lost a unanimous decision to Bruce Codron for the WKN world welterweight Full-Contact title in France on October 2nd. Although the Belfast boy finished stronger in the last round of 12 he struggled to find the form that won him the Featherweight world title in 2002 which he defended three times. No excuses, he was beat fair and square by a very good champion, said Hamilton's coach, ' This was a big ask, I always thought 66kg was too heavy for Gary he is better at 62.5k. But when you get offered opportunities of fights like this you grab them with both hands.
Fight Report
Gary took Cordon's best shots for 12 HARD and fast rounds and was out worked in the middle rounds, saying that Gary finished the last round like a man on a mission, he really was the more active in the final round but left it too late.'
Murray added: "Gary needs to settle at the right weight and find his feet there - 66kg is too big for him he really needs to campaign at 62.5 I really don't think there is a fighter in the world at full-contact who could live with him at that weight!".
Gary Hamilton will become world champion again!
Thanks for all our team back home who helped prepare Gary and supported him in this quest and to the promoter David Blanc and his team also to my friend Carl Emery for all his help and his team for driving all the way from Switzerland to support the Belfast Boy.
Coach Billy Murray was assisted by Carl Emery and John-Jack Carmel a top trainer and photographer.

The event is promoted in the French town of Mazan by Mr David Blanc in agreement with the WKN France, WKN representative was Habib Bakir.
Check out a blow-by-blow account of the fight as it happened by Carl Emery
Pictures, Video and further fight results will follow soon
Fight Night Gallery



Enjoy this article? Share it with others: