Prokick News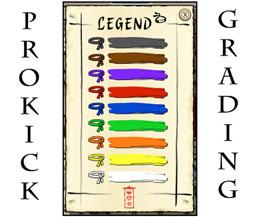 Here's your chance to grade and belt-up. ProKick's next grading is set for Tuesday 27th June 2017 @ 7:45pm
Adult Yellow & Orange belt Grading
Do you want to move up a level on the kickboxing ladder of excellence? If yes, then here's your chance to grade and belt-up. ProKick's next grading is Tuesday 27th June 2017. This grading is for ProKick Adults - and starts at 7:45pm - see below for details. Please note, there are no senior members taking the grade ( seniors set for August 2017, all will be advised in your up-coming classes if you are eligible to grade..If in doubt ask at reception.
A grading is when Kickboxing students, non-contact and contact, are assessed through a series of levels / grades, with the base level being White Belt, through ten levels, finally reaching a Dan grade at black belt, which is equivalent, if you like, to a degree level in KickBoxing. This type of achievement would take, on average, between six and eight years with a training regime of on average of three to four times a week.
All those intending to grade must put name down at your next class. Further information contact reception by phone 028 9065 1074, email info@prokick.com or just call in.
Please do not just turn up – you must submit your name and your instructor must give you permission to attend. the grading is open to all levels who have completed the time required up to Green belts - there are no senior levels grading.

Knowing the techniques isn't enough, all students, Senior must show the correct amount of effort, respect, attendance in classes and discipline in class to become eligible.
Adults Yellow belt Cost £20 - covers grading, license, certificate & belt - all the rest from orange and above are £15 - Black belts are paid for by ProKick
Membership to to gym must be up-to-date, if attempting any grade other than yellow, for yellow please bring two passport photos
Just contact the office on (028) 9065 1074 or drop us a mail to info@prokick.com if you require further info.