Prokick News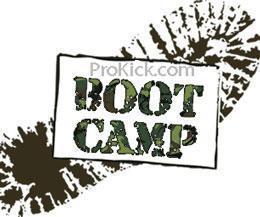 Are you ready for an early morning injection of fitness - well, it all starts at ProKick on Mon 29th May - Friday the 2nd June 2017.
Billy's ProKick Bootcamp 2017 TODAY
Here we go again as it all starts NOW - running, jogging, push-ups, sit-up's and more. There is no easy way to get fit or even to stay in shape - HARD WORK, that's what pays off, and we can help….It can start for you on Monday 29th May 2017. Here's our promise, by the end of a Boot Camp week you'll feel invincible. Members are invited to join our team, up-and-coming fighters and veterans to hit the ground running – literally.
Billy's ProKick Bootcamp 2017 - . Kick-start a no-nonsense fitness regime which is tried, tested and works! All starts Mon 29th May - Tues, Wed, Thurs & Friday the 2nd of June 2017.
A FIVE days and just 45mins per session with the starting time of 6am.
Legendary coach Billy Murray says: "There's nothing quite like breaking sweat as dawn is breaking. You are one step ahead of everything and everyone for the rest of the day. By the end of the week, when you see the results, you will want more."
For further details and to join Billy's Boot Camp, contact ProKick on 028 9065 1074 or drop us an email to info@prokick.com or book on-line if you are a ProKick member.
This offer is only open to ProKick members, non members the contact details above.