Prokick News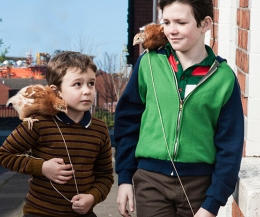 Riley Hamilton (Left) from Bangor & Aaron Lynch were brothers in the movie Boogaloo and Graham which is nominated for the 2015 EE British Academy Film Awards
Boogaloo and Graham to hit the Bafta's
A Young ProKick Kickboxer from Bangor is heading to the Bafta's. Riley Hamilton, age 9, co-stars alongside renowned actors Martin McCann and Charlene McKenna in the short film BOOGALOO AND GRAHAM. The Film is set In the 1970s, two boys from Belfast discover the facts of life with help from their pet chickens. Directed by Michael Lennox, produced by Brian J. Falconer and Richard Irwin & written by Ronan Blaney.
The nominations for the 2015 EE British Academy Film Awards were unveiled by Stephen Fry and Sam Claflin at the BAFTA's Piccadilly headquarters this morning (January 9). The ceremony will take place on Sunday, February 8 at London's Royal Opera House, with Fry hosting for the 10th time. The BAFTAs show will be broadcast on BBC One.

On a further note: Boogaloo and Graham has fought its way from 140 short films and is now amongst the final 10 live action shorts to the 87th Academy Awards for an Oscar. News will be released soon if it receives an Oscar nomination, fingers crossed!
"BOOGALOO & GRAHAM" was funded by BFI and Northern Ireland Screen. The short film is about the importance of family life and is set against the backdrop of a troubled political climate.
Directed by Michael Lennox
Featuring performances from
Martin McCann
Charlene McKenna
Riley Hamilton
Aaron Lynch
Michael Lennox attended the National Film and Television School in England. He directed the shorts Rip and the Preacher (08), Dinner Party(10), Absence (11), Nine Lives (12), The Back of Beyond (12), and Boogaloo & Graham (14).