Prokick News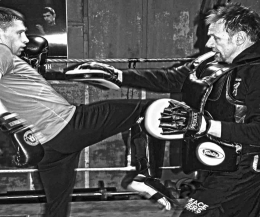 Our 2nd #video on #basic #ProKick pad drills for #beginners is instrusted by #BillyMurray and demonstrated here in picture by #JohnnySwiftSmith kicking both from prokick.com
Boxing & Knee Drills for Beginners Part 2
Beginners guide for boxing and knee strikes from ProKick - Part 2 of our Basic boxing and Knee striking drills are caught on video with Belfast's Billy Murray. Here's a follow on from Part No.1 of Basic Boxing drills for the Beginner - Our 2nd #video on #basic #ProKick pad drills for #beginners is demonstrated by #BillyMurray and #JohnnySwiftSmith from
http://www.prokick.com
- This time featured, it's boxing drills incorporating the use of the knee strike.
No.2 of our Boxing drills is when we incorporate a little knee action for the beginner level 1 & Advanced beginner (For study alongside the tutorial video).
So you've finished & survived 6 weeks of basic training at a ProKick beginners course, this is the follow on. In the next level, 'Advance Beginners' you will incorporate a little contact (don't worry, not on each other!) Glove boxing leading to pad work - a few simple basic boxing & knee drills for the beginner. This will help with building confidence, speed and technique for both the boxer and the pad person.
Glove Boxing & knee pad work:
This includes, upper-cuts, hook punches along with knee strikes, combinations drills with or out-out a partner. You and a partner will take turns alternating between holding pads and punching. Or practice on your own in shadow boxing drills routine.
Important, at this level: Do not hit hard, move around, keep talking to minimal and fix technique constantly throughout the practice of these boxing & knee drills.
Jab (lead left hand)
Knee (starting with left or right)
Double jab
Knee ( the opposite knee strike every time)
1- 2 punch ( Known as left-right punch, Right-left if southpaw)
Knee - ( the opposite knee strike every time)
1- 2 then add a left hook
Knee - ( the opposite knee strike every time)
Right Upper-cut Left-hook - short form Up-hook
Knee - ( the opposite knee strike every time)
Up - hook add a right (left if southpaw)
Knee - ( the opposite knee strike every time)
Click here to see part 1 - Basic boxing drills