Prokick News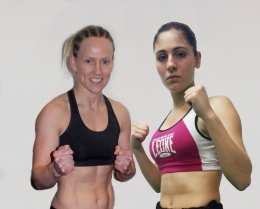 11th June 2017 Cathy McAleer will face Beatrice Marcialis from Sardinia
Cathy McAleer faces Beatrice Marcialis from Sardinia
​Age is just a Number when it comes to WKN Bantamweight world Full-Contact champion Cathy McAleer. Cathy maybe sits on the wrong side of her 30's as she is scheduled to faces a 21 year-old student Beatrice Marcialis from Sardinia. Cathy turns 39 just before she goes through the ropes with the Thai-Boxing specialist Marcialis at the Queens Hall on June 11th at Billy Murray's ProKick International kickboxing event.
Cathy McAleer recently featured on the hit BBC series TrueNorth in KICK-ME - there she spoke about how she was bullied at school and how her father introduced her to karate which led to a life-long study in fitness, later becoming a two-style Martial Art world champion, in karate and then in kickboxing and with no signs of hanging-up her boots just yet.
The Belfast karate & kickboxing queen has a quest - keep competing as long as her body allows and to added another Martial Art world championship crown to her incredible collection of trophies.
She badly wants the WKN K1 style world crown. Cathy was pipped at the post on two occasions. The first time the Belfast fighter lost her bid against the world champion Fadma Basir a French Moroccan - that fight was in Paris on June 2014 and that was on a close decision. Six months later at the Ulster Hall Belfast and a rematch resulted in a draw, with the champion Basrir just holding on to her crown.
McAleer knows about fighting her way out off the trenches, in the last three years she has been training hard, fighting hard and winning that's why she will not take this next challenge against Beatrice Marcialis lightly - the kickboxing Queen needs a win on June 11th to help set up a trilogy showdown, and hopefully that will happen for 'KICKmas time' in Belfast.
But first it is back to business as usual and one fight at a time, June 11th match-up is under full WKN K1 Oriental rules set for 54kg over 4 x 2 minute rounds
Tickets are available from the ProKick Gym or here on-line
Check out the fight card at the Queen's Hall Newtownards
Image Gallery