Prokick News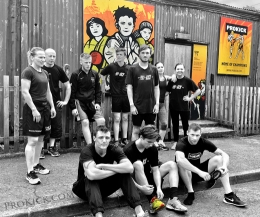 Sparring kicks on again this Saturday 24th June 2017 at 12:45pm for beginners & high level ProKickers
SATURDAY three-in-one style class
Sparring class at 12:45pm on Saturday 24th June 2017. Would you like an afternoon session of circuit training, pad work light sparring a three-in-one style class? Well here it is: The Saturday 'three-in-one' style class is open to all ProKick members who would like to have a bit of everything in one session in a well controlled structured environment.
This Kickboxing Master-Class is open to all levels from non-competitors to ProKick fighters. Non fighters will mix with the same level of members and will not spar with ProKick fighters.
Saturday's agenda:
Circuit training
Pads work
Light sparring
More details will be given at class or if you want to hear more ring the gym's hot-line on 028 9065 1074.
Please be early, you can start warming up from 12:15pm right after the Kids classes.