Prokick News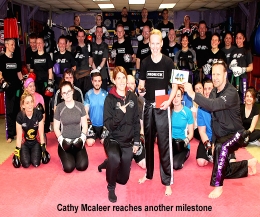 Age is just a number when it comes to WKN Bantamweight world Full-Contact champion Cathy McAleer.
Happy Birthday Cathy McAleer
Happy Birthday Cathy McAleer - normal people would be out celebrating when they hit a milestone but not world champion Cathy - birthday night she could be found sweating it out at the ProKick Gym in final preparation for her big fight on Sunday afternoon at the Queens Hall in Newtownards. MAC will face an exciting 21 year-old Thai-Boxing specialist and student Beatrice Marcialis from Sardinia.
The birthday celebrations will hopefully be twinned with victory celebrations come Sunday and after all her hard work and training, Cathy will certainly deserve a slice or two of cake.
Tickets are available from the ProKick Gym or here on-line
Check out the fight card at the Queen's Hall Newtownards
Image Gallery