Prokick News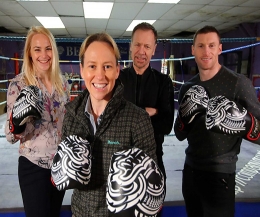 #BBCNI aired 'Kick Me' Monday 20th FEB 2017 at 22:40hrs - missed it? Check-out BBC iPlayer
Kick Me
Viewers on #BBC One #NI had a rare glimpse to go behind the scenes of one of Ireland's most successful kickboxing gyms - the ProKick Gym Belfast. Located on a street corner in the east of the city sits the home of kickboxing in Belfast. Run-down and made out of corrugated iron, it is the gym where four-time world champion Billy Murray has been changing lives for 30 years. Lives like those of his student kick boxers who he trains today. The programme was directed by Bafta winner and Oscar nominee Michael Lennox, 'Kick Me' is their story.
Missed #KickMe ? Well, you can still see a film by some of #NorthernIreland 's #bighitters from the film industry. They came out in force in the making a documentary about #BillyMurray & the #ProKickGym for the BBC WATCH IT AGAIN #BBC One TrueNorth :-


Production by: Award winning production company 'Double Band Films' Established in 1988 by Michael Hewitt and Dermot Lavery. Belfast-based DoubleBand Films are one of the most vital and influential production companies in Northern Ireland.
Director: 'Kick Me' was directed by Award winning director Michael Lennox - In 2015, Lennox, directed Boogaloo and Graham and they won a BAFTA Award for Best British Short Film - his team was also nominated for an Oscar at the Academy Award for Best Short Film, Live Action. Michael met Billy through a project with Cinemagic. Michael was the director of a short film called 'Punch' which Billy Murray played a boxing coach. Michael has just recently directed an episode of the acclaimed ITV drama series, Endeavour. He is currently working on a new television 6 part series for Channel 4.
Music: No punches or Kicks pulled here either. The music for 'Kick Me', is by none-other than Belfast's award winning composer, David Holmes. Holmes, a winner of two Ivor Novello awards. David has scored dozens of Hollywood movies, example, Oceans Eleven, 12 and 13 for Steven Soderbergh to name a few. David Holmes
BBC 1 NI viewers had a rare glimpse behind the the scenes of one of Ireland's most successful kickboxing gyms - the ProKick Gym in Belfast.