Prokick News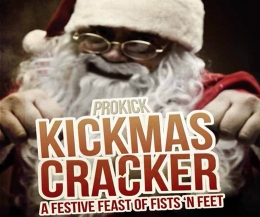 Here's some information that may be helpful ProKick members over the festive season - December 2014
News from ProKick for Dec 2014
It's going to be a 'Festive Feast of Fists and Feet this month at the ProKick gym in Belfast. It's the most wonderful time of year once again! Yes, Christmas is just around the corner – and ProKick would like to say a BIG thank you to ALL the parents, boys & girls to all our senior members who attend the club. Whether you help out in the club, doing pick-ups, drop-offs for other members, or simply making sure that your child or children turns up on time in uniform for each class, then we would like to say how much your effort means to us at the ProKick Gym. Read on....>>>>>>>>>>
Here's some information that may be helpful ProKick members over the festive season:
Class Times - Class time are as normal from 15th to the 23rd Dec but please note Class time's change frequently during the holiday period; therefore keep an eye on ProKick.com
Last Kids Class of 2014 is 20th Dec ...See below -
The gym will be closed from the 24th - 27th December.
29th- Open Class 6pm all levels.
30th - Adult Senior class 6.45pm & Beginner Course 7.30pm - NO Kids Class
Gym Closed 31st Dec
Gym Closed 1st Jan
Friday 2nd Jan - Gym Re-opens normal. 6.30pmclass open to all levels.
ProKick Grading - 'Le Grande Grading' - Due to take place Wednesday 17th December at 7pm. please see prokick.com for full information.
Santa Visit - Saturday 20th all kids classes will start at 11.30am until 12.15pm - this is for one week only! We also have a visit from a special visitor each year and this year will be no different… Santa will be visiting the ProKick Kids - This will be the last Kids class of 2014. Check-out a previous visit from Santa
'Lords of the ring' DVD launch - KICKmas Celebration, See highlights of the Lords Of The Ring event, meet the team, awards and much more on Sunday 21st Dec 2014 from 4-6pm - purchase your own copy of the special signed limited addition DVD at the Virgin Active health club - KICKmas 2014 is alive and KICKING.If you missed the event back in September try and support this one. Tickets £3 for Kids £5 Adults.
We will have a ProKick stall at this event - for t/shirts DVD's New ProKick track-suits gloves and much much more…
New Beginners Class - Our next New Beginner's Class starts Monday 5thJanuary at 7.45pm - If you have any friends that wish to join please ask them to contact 028 9065 1074 or drop us an email to info@ProKick.com with "Beginners" in the subject bar.
Up-coming event - We plan to stage a Next Generation show in March so anyone who is wanting to compete should speak to BM and attend fighters class from Wednesday 7th January at 7pm.
Membership 2015 - Membership will be due by end of January.
Membership fees are vital for the maintenance of the gym and equipment. Therefore it is important that everyone pays it. Remember to bring your license in to get it updated. Also bear in mind that membership forms need to be filled in as it is important for us to have a contact number for you in the event of merged or cancelled classes.
From all of us at ProKick thank you for your continued support and we wish you and all your family a healthy, happy and prosperous New Year.
Billy Murray & all the team from ProKick HQ