Prokick News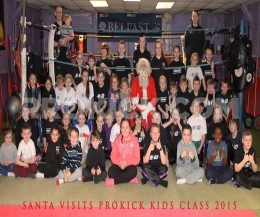 Check out the gallery for pictures from Santa's visit to ProKick in 2015
Santa visit makes kids day
Santa hits ProKick again and didn't let the ProKick Kids down even on his busiest time of year. Saturday 19th DEC 2015 seen the return of Santa to the ProKick Gym in Belfast. The BIG man was guest honour at the annual ProKick kids Xmas kickboxing party, and has been for the last 24 years. He witnessed the last kids competition for kicking MAD kids at the respected ProKick gym in Belfast.
ProKick Gym Belfast - Santa took time out of his busy schedule and paid a quick visit to the boys and girls at the gym to hand out some presents to all the hard working kids ahead of Christmas.
The 'PROKICK SAYS' children's competition day has been a resounding success all these years and is aimed at improving fitness, discipline and co-ordination.
The fun day also gives young kickboxers an opportunity to experience competition using their martial art skills.
For further information on kickboxing email info@ProKick.com or call 028 9065 1074.
Check out the gallery for pictures from Santa's visit to ProKick in 2015