Prokick Fighters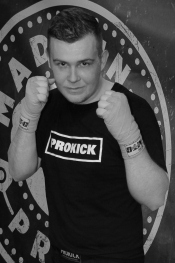 James Ireland
Novice
| | |
| --- | --- |
| Record | 1F, 1L |
| Assoc. | WKN - ProKick |
| Height | 5ft 6 |
| Weight | will have first fight at 69kg |
| Style | Full-Contact or Low-Kick |
| Age | age 22 |
| Birthplace | Belfast - northern Ireland |
James Ireland started his ProKick Kickboxing journey nine months ago at the 'Home of the Champions, the #ProKickGym. The alarm specialist has had no fight or Martial Arts experience. And during his time at ProKick James has been bitten by the fitness bug - to-date has lost an incredible 3 stone in weight. James had his fight fight on the Usual Suspects show Queens Hall Newtownards Sunday 5th February 2017.
Biography
Further information about James Ireland:
What got you interested in kickboxing?
I got introduced to it by one of my friends (Michael Swann) as a way to keep fit and have something to work towards.
What are your future ambitions?
To keep training and hopefully start competing in the near future.
What are your hobbies outside of kickboxing?
I enjoy target shooting, fishing and mountain biking around Mary Peter's MTB Track.
Favourite food?
Chicken kebab on chips with garlic sauce ... obviously not while training!!
Favourite healthy food?
Salmon, sweet potatoes and asparagus
Favourite Band or Music or Artist?
Depending on my mood whether I'm training or heading into town but my favourites would be Tiesto or Oliver Heldon
Favourite Movie?
I like all movies but favourite would be Full Metal Jacket
Favourite holiday destination?
I don't have a favourite destination – I just enjoy travelling as much as I can.
What makes you annoyed?
When people leave my work van messy.
If you had a million pounds what would you buy first?
I would invest in properties all over, rent them out and make loads of dolla!
What do your friends think of your kickboxing?
Friends are impressed with my newfound discipline and have every confidence in my ability to take on all comers!
What do your family think of your kickboxing?
My nan's not best impressed but she supports me!
Are you married and for how long?
Not a chance
Kids?
No way!
Next Fight
TBA

Novice Full-Contact match 3x2 - 68kg
James Ireland Vs Gareth Craig (WINNER on Points) (Peakphysique Letterkenny)
Enjoy this article? Share it with others: