Prokick Events
KICKmas BOX 2014
Sunday 21st December 2014
Virgin Active health club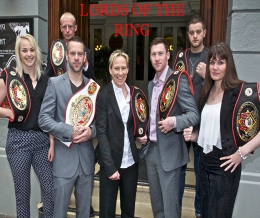 See highlights of the Lords Of The Ring event, meet the team, awards and much more on Sunday 21st Dec 2014 - purchase your own copy of the special signed limited addition DVD
TODAY it's KICKmas time in Belfast. Yes it is is alive and KICKING folks - Santa said it was ON and everyone is welcome! Change of venue and format, The event will be staged at Virgin Active health club on Sunday 21st December from 4:00 – 6:00pm and fight-fans will witness the launch of the long-awaited Lords of the Ring DVD.
Event Details
If you didn't make it to the live event, or want to re-live the action from that incredible night at the Ulster Hall on September 13th here's your chance to see highlights of the SEVEN WKN World title fights. Each fight will be introduced by a member of the Lords of the Ring Team and the full-fight DVD will be on sale for you to take away for Christmas. You can also place an order for high-quality LOTR event posters from our archive gallery. And yes there's more!

The KICKmas 2014 Celebration won`t have a fight-card but the line-up will still be A-list and action-packed all the way.

This event will be your opportunity to chill-out in the run-up to madness before Christmas. You can grab some last minute shopping in the shape of ProKick DVDs or new gear from the ProKick Range - both will be on sale at KICKmas 2014….
Hope to see you there

Fight Card
Ticket Information
Tickets are available from the ProKick Gym, Virgin Active Health Club or any of the ProKick Lords of The Ring fighters.
You can also reserve your tickets by emailing info@prokick.com
There are only a hand-full of tickets so first come will have the front row seats to one of the best ProKick events to date.
Tickets are £5 for Adults and £3.00 for children.
Related News Articles
Event Images

Enjoy this article? Share it with others: