Prokick News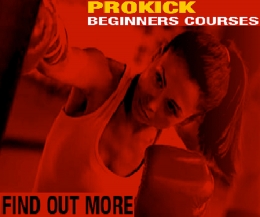 Do you want to get fit? - Then here it is - a series of 'Get Fit' campaigns for 2017 - the new class will start on Thursday June 22nd @ 8.15pm
Fitness Course - 6 weeks Of Kickboxing for 2017
Get ready for your Summer holiday's as ProKick Kickboxing Gym have launched a series of 'Get Fit' campaigns for summer of 2017. Here's our eleventh kickboxing course this year and it all kicks-off Thursday June 22nd at 8.15pm. This is a kickboxing fitness beginners course which will help kick-start you to a fitter healthier life. The course is in the form of a six-week course that will stir some life into couch potatoes who need and want to get themselves in shape.
More information can be found here on this one-stop page to the Beginners guide to Kickboxing - Our next 6 week course kicks off on Thursday June 22nd @ 8.15pm
This page will state info you need to know to help you enjoy the course
We will whip beginners into shape and stir some life into those couch potatoes who want to get themselves in shape for the rest of the year ahead. The ProKick course' will work through the fundamentals of fitness, elements of self-defence and come up with a diet for those serious about getting in shape and shed those extra lbs.
" Don't leave it until it's too late to lose those extra pounds and get fit, book your place now. " said Murray. "At ProKick we have a long reputation for taking everyone who comes through the doors and finding a regime that is right for them.
"We've trained world champions and those keen on burning off a few extra pounds. It's a fun way to get healthy and it's open to absolutely everybody. "Kickboxing isn't just about getting into a ring – it's a great way to get in shape and stay in shape."
To watch a short video of what to expect from one of our 6 week courses and the results YOU can achieve for just £25, click here Murray himself is testament to the benefits of the ProKick regime. At XX-years-old, the former world champion made a ring comeback in 2004 and won in triumphant style in the Ulster Hall. His final bout was a fund-raiser for cancer charities.
If you would like book a place on the this course then here's two ways to book on-line: Pay a £10 deposit to book your place book on-line now Or Buy now in full for £25:
– or for more information drop us an email to info@prokick.com or call (028) 9065 1074 The next new starters Course begins Thursday June 22nd @ 8.15pm
ProKick Beginners Class Finish - VIDEO