Prokick Events
Made in ProKick - World Champions
Sunday 14th June 2015
Belfast Holiday Inn Hotel, Ormeau Avenue.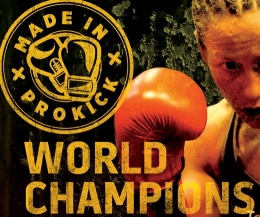 Made in ProKick Belfast - from beginners to world Champions will be staged on June 14th at the Holiday Inn in Belfast city centre
Kickboxing's elite will descend upon Belfast for Billy Murray's latest FIGHT SHOW. The event, presented by ProKick, will be staged on June 14th at the Holiday Inn in Belfast city centre. The event billed as 'Made In ProKick'. Topping the bill is Northern Ireland's homegrown world kickboxing champion Johnny 'Swift' Smith from Co.Down - he will put his title on the line in a first defence of his WKN K1-style kickboxing crown against Yuhei Tsuda (RISE Japan) at the 'Made in ProKick - World Champions event.
Event Details
It's the return of the MAC, aka Cathy McAleer. She is one of Ireland's most successful female Karate competitors, and she too will go between the ropes in as part of her campaign to become a WKN world kickboxing champion. Billy Murray has this earlier: "We had a great event in March where Cathy won a WKN Full-Contact amateur European title and the rest of the team done exceptionally well also, so I'm looking to keep our fighters busy when they are still on a high from our previous show. Cathy will face one of her toughest challenges to date when she squares off with Dani Hodges (Burntwood, England)"
The undercard is made up of various other fighters from the gym, most of whom fought at the "Total Divas and The Undercard" sell out show in March. And there will also be a few fighters having their debut in the ring which has shaped up to be a real good event.

Details of the public weigh-in for the main and semi main event will be posted soon.



Fight Card
FIGHT-CARD
Full Fight-Card
Made in ProKick - World Champions
WKN world amateur super-welterweight K1-style Championship 5x2 rounds
Johnny Smith WKN world champion (Bangor, NI) Vs Yuhei Tsuda (RISE Japan)

WKN European Full-Contact rules world title eliminator 54kg 4x2 rounds
Cathy McAleer (Belfast, NI) Vs Dani Hodges (Burntwood, England)

Low Kick rules 3x2 rounds match made at 74kg
David Malcolm (Belfast,NI) Vs Gerry King (BlackDragon, Galway IRE)
Female Bout - Full-Contact rules 3x2 rounds match made at 54kg
Rowena Bolt (Belfast, NI) Vs Sharron Lynch (Deise KB Dungarvan, IRE)
Female Bout - Full-Contact rules 3x2 rounds match made at 58kg
Ruth McCormick (Belfast, NI) Vs Anna Damazyn (Deise KB Dungarvan,IRE)
Teenager Bout - Full contact rules 3x2 rounds match made at 64kg
Jake McCready (Belfast,NI) Vs Rytis Daniules (Waterfront Kickboxing Club, IRE)
Teenager Bout - K1 Rules 3x2 rounds match made at 64kg
Killian Emery (Yamibushi, Swiss) Vs Cian Mc Cormack (BlackDragon, Galway IRE)
Teenager Bout - Full contact rules 60kg
Cameron Dickson (Belfast, NI) Vs James Kelly (BlackDragon, Galway IRE)
Full contact rules 3x2 rounds 85kg
Chris Phillips (Belfast, NI) Vs Laurent Navarro (Swiszerland)

Ticket Information
Tickets are on sale now

In the meantime send any inquires about tickets, or sponsorship opportunities, to info@prokick.com
Doors open 3pm, first bout 4pm and it will all happen at the Holiday Inn Hotel, 22 Ormeau Avenue Belfast BT2 8HS

Related News Articles
Event Images
Billy's Boot Camp - VIDEO
Enjoy this article? Share it with others: