Prokick Events
Full FIGHT-CARD - Lords Of The Ring - Ulster Hall Belfast
Saturday 13th September 2014
Ulster Hall, Belfast, Northern Ireland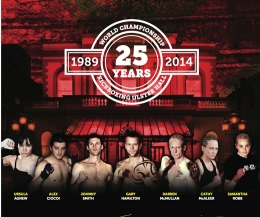 The night will have a knockout SEVEN World championship bouts with his own trained and managed home grown fighters from Belfast's Home of Champions, the Prokick Gym. Murray will stage and host this landmark fight show on September 13th 2014.
FULL FIGHT-CARD RELEASED. It is just THREE weeks until Billy Murray's team will ROCK the famous old Venue, the Ulster Hall in Belfast. The former World champion will stage a special silver jubilee event that will mark the 25th anniversary of the night he became a world Professional kickboxing champion for the first time. The night will have a knockout SEVEN World championship bouts with his own trained and managed home grown fighters from Belfast's Home of Champions, the Prokick Gym. Murray will stage and host this landmark fight show on September 13th 2014.
Event Details
The former fighter Billy Murray, now promoter trainer and mentor to many is one of Northern Ireland's greatest sporting heroes. He is marking an incredible career milestone with a glittering event at the Ulster Hall for this September 13th. Journalist Paul McNamee writes: Billy Murray, the man credited with helping popularising kickboxing in Ireland, will celebrate over 40 years in Martial Arts and 25 years since becoming professional world champion for the first time. The Belfast legend Murray, now a spry 56 year-old, took the world welterweight title from American Richard Hill back in September 12th 1989 – the Mayweather Jnr of kickboxing back then and a man who was supposed to be unbeatable.

The event was on September 12, 1989 in the Belfast home of the fight game, the Ulster Hall. To mark the event, Murray, now a celebrated coach and promoter, has gathered SEVEN homegrown fight stars of the present and future, all of whom will challenge for a world WKN title on the night, September 13 2014.
See some clips with Billy Murray CLICK to see Clips from Sept 1989.

"It's just like coming home," said Murray announcing this September's show. "It feels like just a heartbeat since that night my heart was racing and I stepped through the ropes. Hill was a hell of fighter – tough, wily, kicked like an angry horse. He'd beaten me once before, but he wasn't going to beat me that night, in front of my people, in front of my Belfast.

"I've had a wonderful, incredible career since, but that night set me on the way. I felt that I had to mark it and there is no better way for me and for the sport I love than to look to the future. It's going to be a night that will live long. Who knows how many more Billy Murrays will emerge this September."

Murray has also guided, trained, promoted, and managed 10 world champions, 23 European or Intercontinental champions and numerous national champions. He takes teams across the globe, all without any official funding, all paid for through fundraisers by gym members friends and families of the brave and eager young fighters.

Details of the fight-card will is announced below for Saturday 13th September 2014.
Fight Card
FIGHT-CARD
All matches are made booked and all are confirmed

WKN Professional Light welterweight world title 64kg
Full-Contact rules. 12x2 min rounds - Vacant title
Gary Hamilton (Belfast, NI) Vs Sam Allan (Scotland)

Gary Hamilton has a seasoned record of 84 fights with 73 wins. After a few years break from competing Hamilton made a return to the ring for the KICKmas event at the Ulster Hall in December 2013. Fighting under K1 rules. Hamilton suffered a loss and has stated that this fight will be his decider - if the result is a win he will continue to fight, one more loss and he will retire - this bout will be much more than a fight between two opponents. The fight for Hamilton is back to the Full-Contact rules were he captured his world title in France in 2002.


WKN Amateur Middleweight world title 76kg
K1 Sytle Oriental rules. 5x2 min rounds
Darren McMullan (Ballygowan, NI) Vs David Wachs (Germany)

Darren McMullan aka The IceMan is both British and Intercontinental Champion and has a score to settle. Having been robbed of his European title in Germany, only to lose by split decision at a rematch in Germany again (after 18 long months of asking for one here), The IceMan is keen to fight for a title in Belfast and make everyone from his home-town of Ballygowan proud. The world Champion Salamou Dzhamalkhanov (Russia) have now moved into the Pro Ranks therefore the Middleweight title is now vacant. Murray has put a request in that the third fight between the German, Wachs and McMullan to be for the WKN world title.


WKN Amateur Lightweight world title 54.7kg
K1 Sytle Oriental rules. 5x2 min rounds
Cathy McAleer (Belfast, NI) Vs Fadma Basrir (Moroccan French) WKN World Champion

Cathy McAleer held the titles of Ulster & Irish Karate Champion for ten consecutive years along with many other sporting achievements. Her kickboxing record consists of 13 fights with 11 wins. McAleer had a break of several years and came back to kickboxing recently in a bid to take the World title from the current holder in Paris. Cathy lost on points but is undeterred as this was her first fight under K1 rules and she desperately wants a rematch in Belfast...

WKN Amateur Light-heavyweight world title 79.4kg
K1 Sytle Oriental rules. 5x2 min rounds
Alex Ciocoi (Romania-Belfast) Vs Mumun Batur (Turkey)

Alex Coicio, Romanian born but Belfast-bred is current British and European Champion. With a record of 14 fights and 12 wins Coicio recently lost a bid for world glory in March this year in Germany. He wants nothing more than to set the record straight with a new title win for his Belfast bride and new home-town fans. He also has got his wish list .

WKN Amateur Lightweight world title 58kg
Full-Contact rules. 5x2 min rounds
Ursula Agnew (Belfast, NI) Vs Ivana Miklašova (Slovakia)

Ursula Agnew, west Belfast's world champion. Ursula won her K1-style world title in Belgium in February 2013 and made her first defence in June against German ranked no.1 Caroline Abe in Belfast. Agnew lifted another WKN world crown, this time at the Lightweight division and under Low-Kick rules at the KICKmas 2013 event. Ursula Agnew currently holds 2 World Champion titles and is top of the amateur ranks. Agnew wants a triple World title to show for her hard work and she plans to retire in October so this event will be her swansong. If you haven`t seen her in action this will be your last chance as Ursula will be spending her time and energy on family-life in future. Could this be 3 world titles at 3 different styles. What a great way to bow out!

WKN Amateur Welterweight world title 66.7kg
Low-Kick rules. 5x2 min rounds
Samantha Robb (Tyrella, NI) Sona Čeredejova (Slovakia)

Rising star Samantha Robb from Tyrella in Co.Down Samantha Robb, currently undefeated with 13 fights and 0 losses to her name, holds a British & European title as well as double gold medal awards from the World Martial Arts Games in Geneva. Robb has many skills outside of the ring but for now is focusing on a World tile - Samantha fights with precision and gives an excellent technical performance, so expect a showstopper.

WKN Amateur Super-welterweight world title 69kg
K1 Sytle Oriental rules. 5x2 min rounds
Johnny Smith (Bangor, NI) Vs Hakim Ketaieb (France)

Johnny 'Swift' Smith is father to Billy Murray`s most recent grandson - Leo (3 months old). Swift Smith is the WKN Intercontinental Champion and will fight for World honours with his usual dynamic style and speed . As well as the home-crowd Johnny has his ProKick family to impress so he`ll be feeling the pressure from all sides. The Calor gas engineer along with the other team members has fought in Japan, Cyprus, France, Switzerland, Corsica, London Glasgow and that's to name just a few.
Ticket Information
Tickets are on sale at the Ulster Hall for this incredible night and at ProKickShop.com - you can also purchase directly from the Ulster Hall box office on 028 9033 4455 or over the phone at the ProKick gym in Wilgar St on 028 9065 1074 or even by calling in to the Gym .

Don't be left out in the cold this September, get your tickets early, get your tickets now.

Seating Area and prices are:

Ringside - £50.00

Ground Floor Block A - £25.00

Balcony - £30.00

Choir North - £25.00

Choir South - £25.00

Stage -£30 SOLD-OUT

Doors open 6.30pm - First bout 7.30pm

Related News Articles
Event Images

Ultimate Boot-Camp for Lords Of The Ring
Enjoy this article? Share it with others: